Review of Celestron Hummingbird 9-27x56 ED Angled Spotting Scope
16 July 2021 | Admin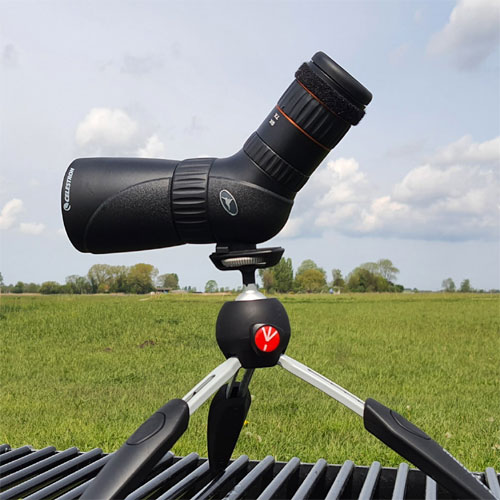 For about five years or so, I have been taking my Eden HD 10x42 binoculars with me on many occasions, taking walks in the countryside for example. I've always been fond of the easy handling and though I liked the idea of being able to increase magnification with something more powerful like a spotting scope, the price tags and bulkiness prevented me from stepping up to the next level.
This all changed when I discovered the small and friendly-priced Celestron Hummingbird spotting scope. There are different versions on the market, like the 9-27x56 (9 to 27 times zoom with 56 mm outer lens diameter) and the 7-22x50 (7 to 22 times zoom with 50 mm outer lens diameter).
Featuring a straight or an angled eyepiece, they both are also available with ED glass (Extra-low Dispersion), which means the glass is treated to minimize chromatic aberration (see this article about chromatic aberration on Wikipedia for an explanation : )
I decided to go with the 9-27x56 ED, featuring the angled eyepiece. This version of the Celestron Hummingbird scope is naturally subject to my review. Because I was used to my binoculars, the handling of the Hummingbird took me some practice getting used to. Not only because binoculars aren't equipped with angled eyepieces, but since you have to focus again every time after zooming in or out, the handling of the spotting scope is a little trickier.


Nonetheless, I was able to spot and follow a distant plane in the sky on one of my first occasions with the Hummingbird. Tracking your targets in the distance can be a little difficult. The trick is to zoom out completely to make spotting whatever you look for easier, then zoom in on your target, followed by adjusting focus again. From about 3 metres away, the scope is also suitable for zooming in close on small objects, like insects and flowers.
The Hummingbird provides crisp and clear images, although the further you zoom in, the less bright the image becomes. In low light conditions, the scope performs surprisingly well, but performance decreases at higher zooming magnification. At maximum zoom, it is somewhat difficult to focus, and a little distortion may be visible.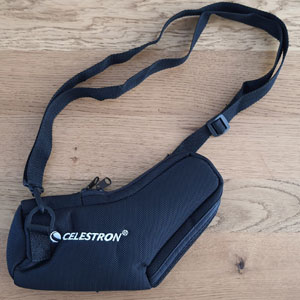 The Hummingbird comes with a carry case, but the 56 mm version barely fits in. Instead, I prefer a shoulder strap for DSLR cameras. That way I always have my scope at the ready, without having to get it out of the case first. The shoulder strap also prevents the scope from dropping to the ground.
There aren't many downsides to the Hummingbird I can think of, besides maybe the eyepiece lens cap, which sits too loose. It falls off whenever I put the scope in my pocket or, for example, when walking too close to shrubs, scratching against the scope.
All things considered, the Hummingbird has become my favourite travelling companion. The portability and lightweight make it barely noticeable on long walks, especially when the shoulder strap is attached. Without it, it's even small enough to fit inside my pocket.

Images shown through the Hummingbird's eyepiece with my phone. Lacking a phone adapter, the pictures are taken freehand. When looking through the scope directly, the images are honestly much more crisp and sharp than shown in the pictures. (In the first picture, there is a table tripod visible. This will NOT come included with the Hummingbird)

Review by Thomas DR

- View all Spotting Scopes