Just how good is a Vanguard tripod like the ball-head ​VEO 3+ 263AB?
15 June 2022 | Admin
​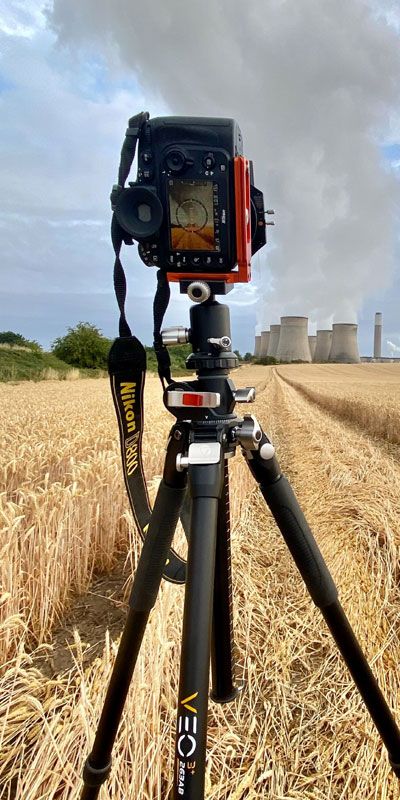 Choosing my tripod:
​As a keen landscape photographer, I know there is one item of photography gear that is an essential piece of kit, and that's a good quality camera tripod. It not only enables you to capture sharp images in good light, but in lowlight too, it allows you to be creative with shutter speeds and apertures, where you would be limited if you were using your camera handheld.
​
​I have used most of the tripod brands on the market since taking up landscape photography, the tripod I use needs to be tough, steady and be able to handle heavy camera and lens combinations and leave me confident that it will not let me down. With my previous tripod starting to fail after only 18 months of use, I decided to start looking through the reviews for the best quality camera tripod I could buy without it costing me a fortune, and time and time again the reviews kept mentioning how good the Vanguard VEO 3+ 263AB Tripod with BH-160 Ball Head was. After much deliberation I decided to trust the positive reviews and purchase the highly recommended Vanguard VEO 3+ 263AB and I can honestly say it is worth every penny, I seriously cannot find anything I would change on this Vanguard tripod.
​
Using the Vanguard VEO 3+ 263AB Tripod with BH-160 Ball Head:
​As soon as you unbox the tripod, you know you have got a tripod that is solid in quality, but not too heavy that you couldn't walk around with it all day. It comes with an excellent carrying bag that should protect it against most knocks. In the field is where it becomes a joy to use, the legs extend in an effortlessly smooth action and with the fantastic ball head attached, takes the camera level almost up to my eye level, and I am 6ft in height, no more having to bend low to look through the viewfinder, the legs can also be locked at 3 different angles, giving total flexibility from full extension to ground level. The Arca-compatible VEO BH-160 Ball Head that comes with this tripod has a firm but flowing action with exc​eptional tension and tightening locks, the top plate lock installs a sense of confidence that your camera gear is going to be very secure.
​
As a classic tripod it excels, but the VEO 3+ 263AB goes beyond that with many extra tricks. The centre column easily converts into a monopod, it can also be used as a horizontal mount and have two pieces of photographic equipment on the same column by using the supplied adapter. Vanguard have generously supplied both rubber and spiked feet for this tripod, enabling all terrain shooting, the tripod bag has a useful small pouch on the inside to store these when not in use.
​
Overall, I am delighted with the Vanguard VEO 3+ 263AB and would thoroughly recommend it to any photographer who is serious about having one of the best quality tripods around. It comes as no surprise that it is an award winner in the photography circles.
​
​Review by Steve C.