The Volume is too low on my SanDisk Clip Sport MP3 Player
2 Comments
21 March 2017 |
Admin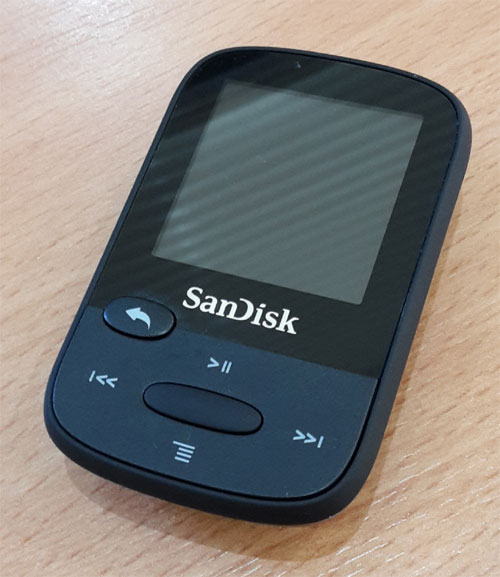 The SanDisk Clip Sport MP3 Player 4GB has lots of good features, but not as good as my older Sansa Clip Zip model
Had an earlier version of this (Sansa Clip Zip) that eventually 'died' after a number of years use. Don't quite like this one as much but it does the job (I use it to listen to music in my car).
I like that it can take a Micro SDHC card (up to 32gb), it's easy to put music on it, is small and lightweight and includes a clip, has a shuffle function but that can be switched off, that I can see an image of the album cover of the music that's playing, and has a good battery life (lasts me about a week at 20 mins twice a day).

What I don't like about this model is firstly just a niggle that the sound resets to 'low' every time it's switched off. So I have to push the up vol button, then press another button twice half-way through to 'override' the warning message about listening to loud music, then go back to press the first button to get the volume the rest of the way up. The older model kept whatever volume was set previously. For listening in the car max vol is needed.
Related problem is it's very quiet (literally and in comparison with the one I had before). I have both the unit and my car vol set to max and the result is only an average sound level - would be no good on a motorway, and a lot of classical stuff can't really be heard. (This is a big negative, but not sure if this is because I've got a refurbished model so I haven't marked it down for that.)

Sansa player volume is too low ?
Why is the volume on my SanDisk Sansa MP3 Player so low?
Due to EU regulations, the volume output of a portable audio device MUST be limited to 85dB.
WARNING: Avoid using headphones/earphones at high volume. Hearing experts advise against continuous loud and extended music play. Keep the volume at a moderate level, so that you are better able to hear outside sound and to be considerate of the people around you.
Click Here: https://kb.sandisk.com/app/answers/detail/a_id/7890/sansa-player-volume-is-too-low

Also a niggle is that the navigation buttons have slightly changed so to go 'back' up the menu path to change the album you sometimes press one button and sometimes another. (Used to just be the same button for navigating around - left for back, right for forward.)
Author: H Douglas.