Seeking the ideal spotting scope - Review of the Celestron 20-60x60mm UpClose Straight Spotting Scope
29 August 2019 | Admin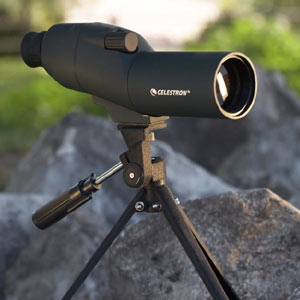 I have looked at a number of binoculars and spotting scopes suitable for birdwatching, borrowing one to start with. I have just received my Celestron 20-60 x 60 and am delighted with it. I didn't pay for quick delivery but it still arrived in two days, thank you.
The clarity is superb even in less than good light, and the focussing is easy, well-balanced, but only one focussing control, no fine focussing wheel. This doesn't seem to be a particular problem but might mean difficulty in separating two very similar species. I'll discover this in time.
As for handling, the scope is very light and doesn't wobble at all on a decent tripod and ball mount - this set up makes viewing much easier. The quality of these is just as important as the scope itself. The lens coating works very well giving a bright and vibrant view, necessary when watching little brown birds!
Watching waders is a delight, the scope really comes into its own. I rarely use above the 20 x, having the wide field is a major advantage and is of sufficient power even to identify waders at some distance. The scope is comfortable to use even for extended watches, no problems experienced with this.
This Celestron scope will suit most users, it's reasonably priced and works very well, how much difference there is compared to scopes of three times the price is difficult to determine, minor benefits perhaps, but nothing that will significantly increase the pleasure of watching birds through this scope. I am sure any buyer will not be disappointed with what this particular scope has to offer.
Review by David Jeffery