SanDisk Ultra Dual USB Drive: The Memory Stick for your Phone
1 Comment
9 August 2018 |
Admin
There are three types of people in world that need a phone-capable memory stick, are you one of them?
Flash drives adapted for smartphones are some of the best new gadgets on the tech market, let's find out whether you should consider investing in one – by taking a look at the SanDisk Ultra Dual USB Type-C Drive.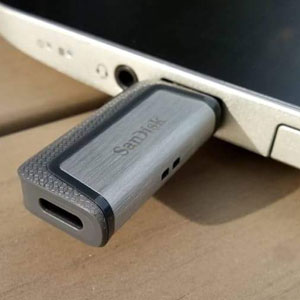 The Photographer
Most photographers will take countless shots during an impromptu shoot; they need a ridiculous amount of space. These tiny flash drives will keep you covered with their large memory capacities, with SanDisk's Ultra Dual USBs reaching up to 250GB.
It's important to keep organised for a photographer, to make things easy, SanDisk have published a 'Memory Zone' app on the Google Play store that allows you to move your files, create folders et cetera, like you would on your PC.
If your home internet connection is anything like mine, you'll find that as soon as you start to back up your photos, your router goes into lockdown. A phone-ready memory stick would be the perfect solution; plug it into your phone and play.



The Businessman
With a phone-capable memory stick, those blink-and-you'll-miss-them opportunities won't escape you as you struggle to find those files due to a bad internet connection, everything could be stored on the memory stick, ready to go.
This type of gadget is perfectly suited to the BYOD - aka 'Bring Your Own Device' - craze that's sweeping workplaces. The memory stick provides the bridge between your own smartphone or tablet and your company's work machine.
A large drawback is that all your devices must have the same connector type. You won't be able to use this with your Android smartphone and your iPad. If this is the case, I'd suggest a wireless memory stick instead.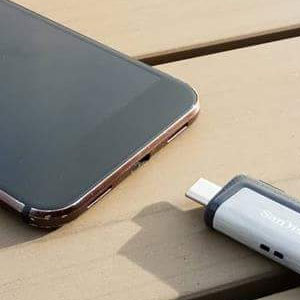 The Explorer
A seasoned traveller will know the importance of keeping their data safe. You're never safe from losing your phone to thieves or to the toilet. Backing up on a memory stick will give you a significantly lower chance of ruining your holiday.
Rather than backing up onto a bulky laptop, saving your data onto a memory stick will stop you from rummaging around in your bag trying to find your data. In this case, the memory stick can attach to a wrist strap or a set of keys.
The SanDisk Ultra Dual USB drive is also perfect for travelling as it's of the highest build quality. The chrome casing is tough and the sliding mechanism that's used to reveal either connector feels solid.