Review of the Vanguard VEO 2 Go 204 AB Lightweight Travel Tripod
14 December 2020 | Admin

I received my first from Vanguard Tripod recently (via picstop.co.uk) – the Vanguard VEO 2 Go 204 AB and it being only my second travel tripod ever. Vanguard describes this as an "ultra light travel tripod", being perfect for small cameras (mirrorless) with a maximum load of 3.0 kg. I guess travel tripods should be small and light and this one certainly fits into that category.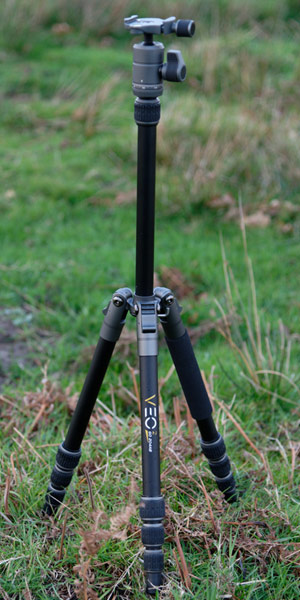 Upon receiving the VEO 2 Go, I was surprised at how small the box was, measuring just over 35 cm and in my hand, seeming to weigh very little. According to my kitchen scales, the complete package (including contents) weighs 1.17 kg, with the tripod (including Arca Swiss compatible plate) coming in at 913g. An ultra lightweight Tripod indeed !

Package contents include the Tripod, Arca Swiss compatible plate, Instruction manual, 2 Allen Keys and a padded tripod bag. Removing box contents, I was surprised further how small this Tripod actually is. Everything about it is tiny. The head is small, the leg diameter is small and the folded length can be measured with a ruler rather than a tape measure (it's about 33 cm long folded).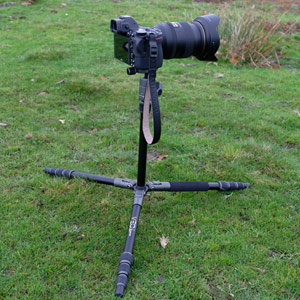 Build quality looks high, with the 4 section Aluminium legs anodized in Black and the metal ball head having a finely cast look. The Knobs & twist grips are all rubberised, with the Leg angle locks having metal, spring-loaded push buttons. Each leg can be independently adjusted outwards to 3 positions, with the post extreme position setting the Tripod almost flat. Underneath the central shaft is a spring-loaded hook for holding a bag to make the structure more stable (with a lower centre of gravity). One leg is covered with foam padding for carrying/holding the tripod and each leg has a sturdy rubber foot at each end. Centre column is also height adjustable and with the extending legs, the tripod can be adjusted from 30 cm high up to 130 cm.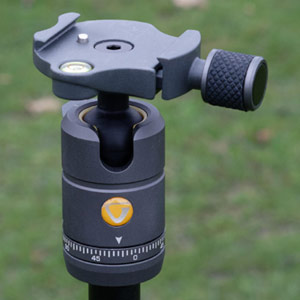 Adjusting the tripod to height/position, it feels reassuringly sturdy (for a thin legged tripod), even with the legs fully extended. Locking is straightforward, with 'firm feedback' that each knob or twist grip has been tightened sufficiently. Moving the legs in and out, they feel stiff, which I imagine will loosen up over time. Vanguard have been thoughtful enough, to provide an Allen key to adjust the leg hinges, if they get too loose in the future.

As a fan of what I would call 'thoughtful design', the VEO 2 GO has a few nice features. The ball head plate has been designed with recessed contours so that when folded, the legs tuck in nicely keeping the folded size small. Vanguard have also included a spirit level in the top plate, but at 90 degrees to the clamping knob. With a small camera body mounted, the spirit level is clearly visible. The Arca Swiss plate can be tightened to a Camera body with an Allen Key (supplied), a coin (or similar) or the built-in flip out ring. One feature that stood out, is that the top plate doesn't use the traditional method of preventing the mount plate from slide out (2 allen bolts on the underside), but rather a spring-loaded pin. This works fine, but if you were to use a 3rd party arca swiss plate, you will probably need to remove the 2 allen bolts from the plate beforehand. You also have the choice of swapping the ball head, though in doing so, the tripod may not fold down so neatly.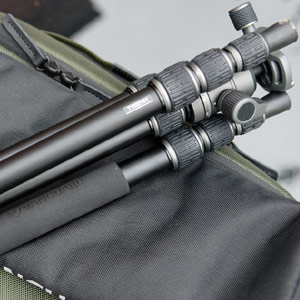 Using the VEO 2 GO, its sturdy for an ultra light. I didn't have a small camera to test it with, but It accepted 1.5 kg of full frame body & Lens with no complaints and using remote shutter to release, I had no issues whatsoever. I haven't tested whether it can indeed support 3.0 kg (or indeed more), I can see that the legs might not take 3.0 kg well when folded flat or outwards, but if used sensibly, I can see the VEO 2 GO lasting a long time. My only real possible criticism could be found in the padded bag, it doesn't have a proper carry strap, it's a draw string strap and not long enough to go over your shoulder. I guess that's probably deliberate. At this size, Vanguard didn't intend for it to be carried separately. It's been designed to be carried on the outside of a Camera bag (most bags these days have some sort of tripod carrying mechanism) and the VEO 2 GO is small enough to fit inside a decent sized backpack.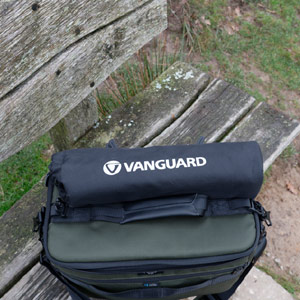 To sum up, the VEO 2 GO isn't madly expensive - £100 or just under and if used sensibly, could very well serve as part of a larger mirrorless kit. That's where I really see its value. Carrying large cameras around gets heavy, very quickly and any weight savings to be had, really do help. Review by Justin L