Review of the SanDisk Connect Wireless Media Drive
1 July 2016 | Admin
PicStop asked me to try the SanDisk Connect Wireless Media Drive a new little gizmo they have added to their stock. I put it through its paces and offer my opinion. My usual interests are photography so I was a little unsure how I would cope with a portable WiFi streaming media drive.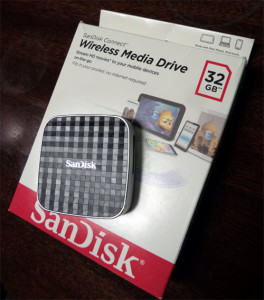 On opening the packaging I was greeted by a compact little device with very clean lines and attractive styling, a side trim of brushed aluminium surrounds a black checkered top, the checker pattern, cut at various angles that catch the light like the facets of a jewel. One simple button to turn on/off, an SD card slot and three tiny pin holes in the aluminium sides allow the led display for power, connection and battery. The styling of this little driver makes it appealing as well as functional, an ideal present for Christmas that won't disappoint on opening.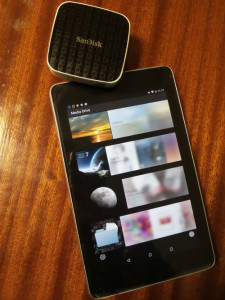 I entered this task as a total novice and have to say SanDisk have made this little magic box fool proof. I have thoroughly enjoyed my experience with it and keeping it in my possession has been hard as all my family want to be using it. This how ever is not a problem for the Media Drive, as it can connect to 8 separate devices and stream different video content to 5 of them simultaneously.
To try this out I connected two phones and three tablets to the drive, I would have connected more but I had no more in the house. The Media Drive performed flawlessly streaming Jungle book to my daughters android tablet, Mamma Mia to my partners iPad and allowing myself to edit photos to save and upload my time lapse videos to its memory.
The SanDisk Connect Wireless Media Drive connects using a free app available to download from iTunes or Playstore and works with iPad, iPhone, iTouch, Kindle Fire, and Android devices. Also works on PC & Mac computers. It connects to your devices via WiFi and has password protection to guard those personal files when streaming.
Once connected the app opens up into a dedicated user home page that is self explanatory and intuitive to use. It allows movement, storage and viewing of movies, music, photos and files using thumbnails for ease of scrolling through content.
The media Drive has adequate internal memory rated at 32gb and an SD slot to transfer photos and files or just to boost memory. I inserted a SanDisk 128gb card shooting the memory up to a very satisfactory 160gb.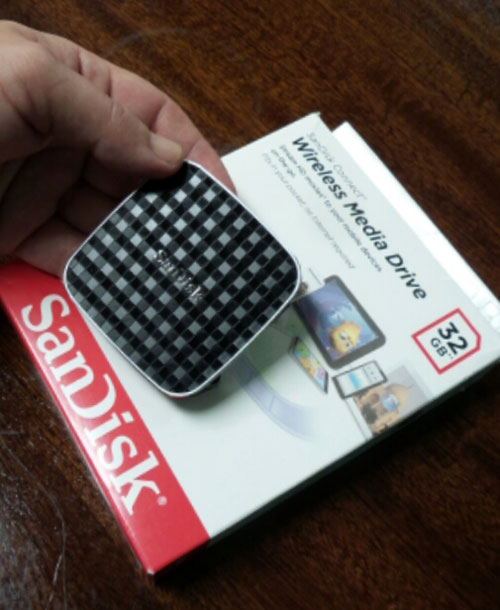 I am ABSOLUTELY in LOVE with this little Media Drive, SanDisk have created a very portable , attractive and useful means of storage that opens up your existing devices to be used where ever and when ever you wish. I have started carrying it every where. I download photo files to it while out on shoots, I watch saved YouTube music videos when I have spare time between work, I stream music to my phone which keeps my phone memory clear. And entertain my daughter with movies on car journeys..
The SanDisk Connect Wireless Media Drive, a device I never knew I needed until I experienced it. review by Richard Lindley.