Review of the Celestron Upclose G2 10x50 Binoculars
23 October 2018 | Admin

Imagery
10x magnification makes these binoculars very versatile. They're well suited those sports events and concerts where you've been assigned seats that are miles away from the action, in the nosebleed section. The binoculars can also handle long distance bird watching - using hides etc., and some astronomy too - if you're steady enough, and plane spotting. The binoculars gave me some brilliantly bright imagery, thanks in part to the large aperture. It could be improved if the prisms changed glass types from BK7 to BAK4, though these binoculars have bright imagery despite that.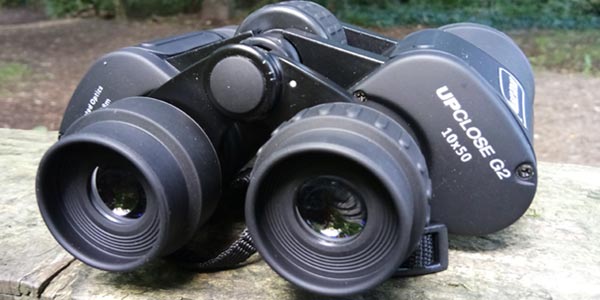 Design
You've got to love the look of a pair of porro binoculars, and you've got to love the design of these binoculars in particular; black and elegant.
On top of the looks, the shape is very ergonomic. My hands found a natural resting point very easily thanks to the grippy thumb indents, the proportions of my fingers matched the curves of the barrels. Clever Celestron. The bag for the Celestron binoculars is simple and well put together. The binoculars are well cushioned on the inside. Using the bag was mostly a hassle-free experience, although at times I found the lens cap to come of when taking the binos out of the bag. What a ruddy disappointment the straps are. They're ridiculously thin and had to be primitively tied on to the binocular via a couple loops on the casing. Even after tying the straps on, I found it to be a little uncomfortable. It might be worth replacing these if you're going to be using the binoculars for long periods of time.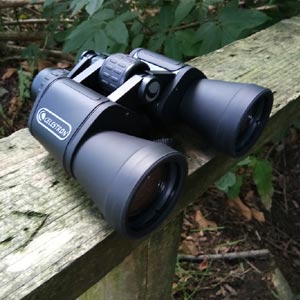 Durability
From the feel of it, these binoculars should last, as long as you treat them with some care. Celestron promise the binoculars to be water resistant, and I believe them. All of the rubber and plastic casing is assembled to a good standard. I'm just worried about the metal frames and screws. After prolonged use in the rain, I'm hoping that the binocular's exposed screwheads won't succumb to rust. The metal frame is covered in a protective layer, so as long as I don't scratch them, the binoculars will be fine. The quality of the focus wheels is impressive; the resistance is just right. They stayed in position when I wanted them to stay in position, and were easy to focus when I wanted to focus. Couldn't ask for much more.