Music during exercise Phone or MP3 player?
30 January 2018 | Admin

Music during exercise; Phone or MP3 player?
Exercise can be very boring. Music and audiobooks are a solution. But is it worth buying an armband for your phone, or a clip-on MP3 player?
Most people know what a smart phone is like, so to fight for the other side, I've chosen to review the SanDisk Sansa Clip Sport MP3 Player.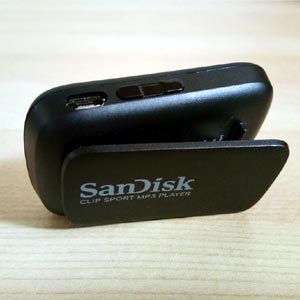 DESIGN
Covering around half the real-estate of the device, the MP3 player's screen makes the device a bit bigger than the last iPod Shuffle, however it still manages to be just as light. After several sessions in the gym I noticed that the battery life was excellent. The Clip Sport was switching itself off at appropriate times, to save what remained from its 25-hour power supply. The front-facing buttons aren't brilliant quality. Clicking them sounds and feels cheap, owing to the light, flexible plastic that's been used on the MP3 player's shell. On the bright side, at least there aren't any virtual buttons – it can be used in the rain, and doesn't require the same attention to use during a tough workout. On the back of the MP3 player is a large clip, spanning the height of its shell. It stayed in place on my waistband during even the most vigorous of exercises, like sprinting, cycling and hoovering.
The device comes in 4GB, 8GB and 16GB variants, which would have been a let-down if it weren't for the built-in microSD card slot. Memory can be transferred via a Micro USB 2.0 port.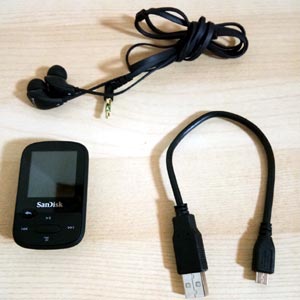 SCREEN & INTERFACE
At 128x128, the square-inch LCD screen isn't high quality by any means, but is quite able to display several music listings clearly, or display the current track's artwork in a decent representation of colour. Navigating through the MP3 Players computer is simple, a straightforward combination of a directional pad, alongside the ENTER and RETURN buttons. As expected, there's a volume rocker on the side of the device. An improvement for SanDisk to consider would be a lock button, to stop me from changing songs/changing the volume etc. accidently. To combat this problem, I had to move my MP3 player to a specific place on my waist for certain movements. Feature-wise, there aren't too many frills. Essentially you have access to your music and audiobooks, as well as an FM radio tuner and a sports timer.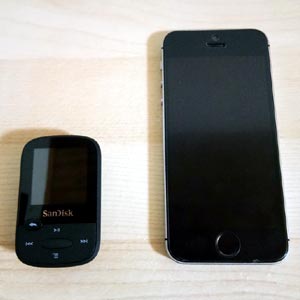 SOUND QUALITY
The MP3 Player can handle playing premium quality AAC files, found on iTunes, alongside the usual MP3 and WAV formats, amongst others. Playing larger audiobook files didn't cause any stuttering. Bundled with the MP3 player are SanDisk's own tangle-free earphones. Bulbous but light, they balance well in the ear and sound great. They don't struggle with sounding tinny like most earphones and do well to capture the low-end.

CONCLUSION
The MP3 player isn't as cumbersome, is easier to use in a workout, and has better battery life than using a phone during exercise. It's inconspicuous when unneeded and more helpful when required.
Worth the money.