Memory Confusion? Class 10 SDHC Compared In Three Minutes
15 January 2016 | Admin
Memory Confusion? Class 10 SDHC Compared In Three Minutes

If you've just taken possession of your first digital camera or camcorder and are looking at how best to advance from amateur to professional you may not give a second thought to whether to utilise the tech behind a class 10 SDHC card over a class 2 SD card.
However the difference in background technology is vast. I'll make it clear, the classes do not make for better imagery or of video, the differences pertain to the storage options, assurance against weathers and temperatures and a much faster read and write speed - with the four classes offering write speeds of 2MB/sec, 4MB/sec, 6MB/sec or 10MB/sec, though these are a minimum expectation.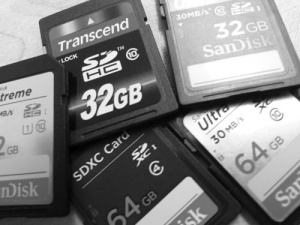 Choosing A Class 10 SDHC By Equipment Usage
The higher speed strangely affects rate of fragmentation and ensures the loss of images or fragmentation of recorded video is rare. Even if a card is guaranteed for 1 million hours, errors at nano level do occur so remember to format even a class 10 SDHC. If you have ever accessed a CD Rom and have been advised the file is inaccessible, this is due to a corrupt file failing at non-linear storage. Which is far more likely on a lower class SD card than a Class 10 SDHC card.
There are three defining reasons for choosing your first SDHC card. What does your camera manufacturer recommend? What is your purpose for taking photos, professional sports photographer versus wedding photographer for example and thirdly does the usage demand a higher level of memory storage on one single card?
Having answered the above questions you are ready to select. A professional sports or events photographer may need to shoot on burst or continuous. The read rate is therefore very important. You may not realise but while you are clicking away, your memory card is awkwardly trying to keep up with the processing and writing the image to file. If you're sending a dozen a second to the card, it needs to be able to keep up. So in this instance a class 10 SDHC card would be of paramount importance.
On the other hand, if you are a wedding photographer, looking to capture that single most special moment, taking photos over several minutes. A lower class of SDHC card could be used but if setting out to be a professional, starting out with a class 10 SDHC card from a reputable manufacturer like Sandisk will keep you in good stead.
What Are The Best Features Of SanDisk Class 10 SDHC Cards?
On a par with fast action photography comes HD camcorder operation. Now this environment is perfect for a Sandisk class 10 SDHC card. One of the fastest write speeds on the market, you are also obtaining the fastest read rate, meaning less time hanging around for files to stream to another device.
You will also find other indicators to assist in your decision making. UHS-1 stands for Ultra High speed and is the latest in fast writing speed and up to 80mb per second. Choosing a card which offers a long warranty, and protection against extreme temperatures and is waterproof is also advisable. As for memory, Class 10 SDHC is available up to a maximum of 32GB, enough for most people but video hobbyists may wish to opt for a Class 10 SDXC card if equipment allows.
Choosing Best And Tested Class 10 SDHC Memory Cards
Simply remember that spending out the most money usually only applies to the best and largest storage capacity, 8gb, 32GB, 128GB and only if you require such. Class 10 SDHC cards do not make your images any better, however a faster read and write capability will ensure better data integrity and make work flow faster both when taking pictures and video and when transferring. Choosing a reputable manufacturer will also insure against data failure and loss of storage to external factors.