Meade Polaris 130mm Telescope – Excellent Start to Astronomy
Monday, 4 May 2020 | Admin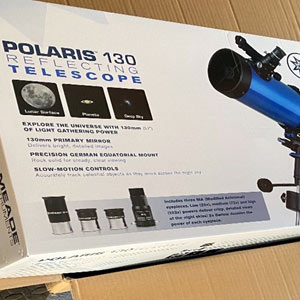 With time to be able to do some real research and being fuelled by the fantastic Full 'Pink' Moon at the start of April, my research on telescopes started and then concluded with this telescope.
I used a couple of websites to do that research and then as with most people, ultimately it comes down to the best price… Being honest and as a complete newbie I didn't want to spend quite as much as the price tag on this telescope (£200 plus), but the offer I saw for the equipment in question… That brought me to PicStop.
Not only was it the best price at the time of searching but also promised a swift delivery, which meant I might still make for some Pink Moon spotting.
PicStop website was easy to negotiate and payment process to match. Added to that the telescope was delivered within 48 hours of the order being placed… Given the quarantine – Very Happy!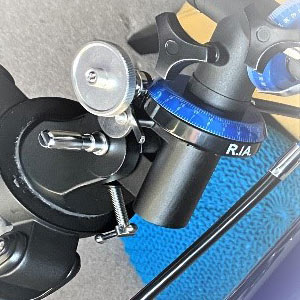 Upon arrival – A secure and very well packed box with the kit within was in effect 'flat packed'. Each segment was in effect within it own box/specific wrapping.
Inventory done – and messing about with lenses completed… To work!
My first impression was – 'I think you may have gone over the top with this purchase'. It was a LOT bigger piece of kit than I thought it would be but in truth it was easy to assemble.
My ONLY issue that I found was that the instructions (written) were a little hard to follow for a newbie and I no longer have anything that can take a DVD which was supplied as a part of the instructions. I found a Meade YouTube video easily enough but that seemed to be for 2 different Meade models of telescope –I eventually found this video which enabled me to get exactly what I needed done in a language which I could understand!
Set-up complete, I was now free to gaze to the skies, and I was not to be disappointed.
The moon was alas still at a full(ish) phase, but not from my garden and whilst I tried to get to see it I could not due to houses blocking my view. So instead I had to make do with some spectacular views of Venus, Leo and Orion and various other constellations and stars too.
Then over the coming days there was the Lyrid meteor shower, the telescope wasn't needed but it was used, and it was fantastic – maybe I got lucky – I do not know, but I saw some fantastic sights and of course the Star link rocket launches and the lines of satellites.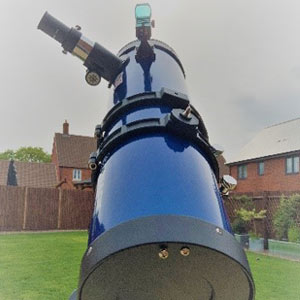 I find the red dot viewfinder difficult to align and to use in general – plus I keep forgetting to turn it off ergo it burns the batteries too fast – its easy enough to manoeuvre about so I am full on 'manual' and being honest once you get your head around the fact that up is down, left is right then you are fine. I also use the Star Walk app whilst finding whatever is best from my garden at any given time (I also utilise the timeanddate.com website)
The new moon and I had a great window of opportunity to see the crescent moon and despite some clouds it brought my first glimpse of the surface, of actual craters and some large peaks – it really was an unforgettable moment which I was able to share with my son… He came away from his games console long enough – that is a win!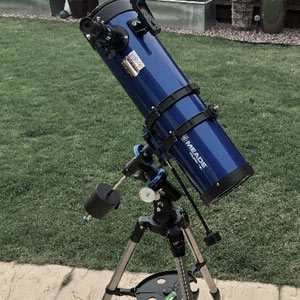 All in all, this is a fantastic telescope for a beginner as promised on other reviews. However, it is probably more than is required for a first time purchase but I wouldn't have it any other way now and it has really opened a whole new hobby that primarily was mine, but also to my family too.
Plus points are ease of set up and to use combined with a superb view once you have located the point in the sky that you are looking for add to that the cables for close (slow) control and it's a very controllable piece of equipment.
Minus points the out of the box instructions are not that easy to follow, the Meade online video is not specific to the 130mm Telescope and finally the view finder… it's not that easy to use – I'm expecting point, line up, look through the eyepiece and voila – its likely user error – I accept that, but for the life of me, I cannot align the finder and the eyepiece to a target!
I am very much looking forward to the full moon later in May and to also seeing Saturn in June, where I can apparently see Saturn's rings using the Meade telescope.

Review by Paul Rezon