Is the Vanguard VEO T37M the best camera bag for mirrorless cameras?
29 October 2022 | Admin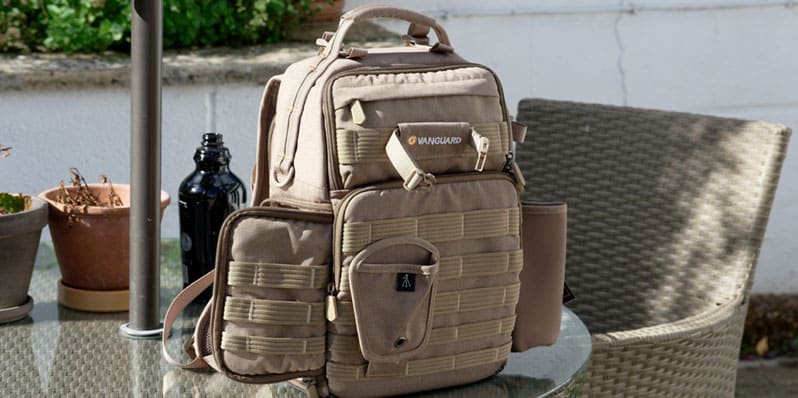 The Vanguard T37M Range is a small Camera backpack for mirrorless cameras, part of Vanguard's (relatively) new tactical range, being the smallest pack within that range. What makes it a 'tactical' bag is the use of Molle (Modular Lightweight Load-carrying Equipment)/Pals Webbing. Simply put, this is a system that allows for additional pouches or bags to be attached with Velcro straps. This is great in many ways, but in the main, it provides flexibility and almost as importantly, it looks very cool.
​The T37M arrived to me brand new and included (the almost obligatory) tripod holder and a neoprene water bottle holder. Both with Velcro straps to attach to the webbing on the bag. It also included 2 clip straps to help secure a tripod onto the outside of the bag. The first thing that struck me was that the back-pack is fairly well covered with webbing on both sides and the front of the bag. It also has the 'standard' tough plastic bottom panel found on many Vanguard camera bags, and has a general feel of quality in terms of the materials used. I can't say how water-resistant the outer material is, lucky for me, it wasn't raining, but the bag does come with a removable rain cover.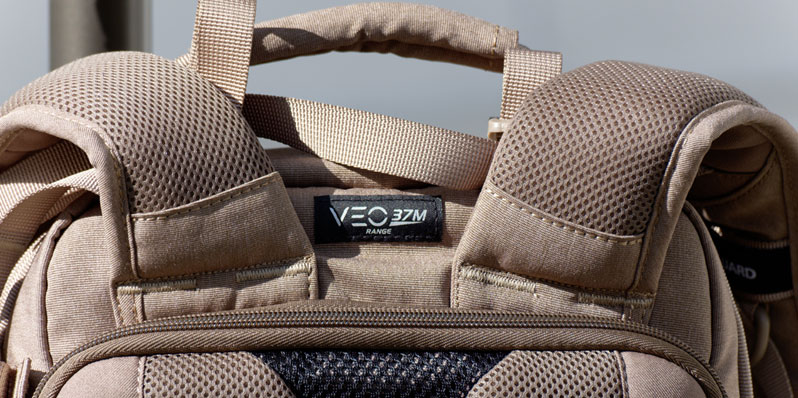 ​
Looking inside, the bag is segregated into two main compartments, with a dedicated camera section at the bottom and a general compartment at the top. Both are very well padded, so if you wanted to drop a lens in the top compartment (and I did), you will be happy knowing it would still be well protected. Layout and internal features of the 37M are very much Vanguard standard, with zippered SD card/accessory pouch in the top and using similar padding materials found in other Vanguard bags. i.e. high quality and perfectly acceptable. Padding also has Velcro tabs (pretty much industry standard) so that you can move things around. The top compartment bottom is also held in place by Velcro. If you wanted to, you could remove it completely, turn the bag into a single, larger compartment bag.
​
All zips on the Vanguard T37M seem to be of high quality, with 'grippy' plastic tab/pulls on all the access points. There are 3 main ways into the bag. Main access at the back where the load bearing straps are, with a tablet compartment big enough to hold a small tablet. This part of the bag seems almost reinforced and stiff. There is also some reinforcement on the very front of the bag, where the lower (externally accessible) accessory pouch is. The reinforcement (stiffened plastic panels or very dense foam?) give the bag the feel of a high degree of protection. Nice. The front panel also has a zippered accessory compartment with 2 mesh pockets inside. In theory, you could drop a mobile phone in there, but I would not. It has no real security, but lens pen and puffer or other (relatively) easy to replace consumables could happily sit in there.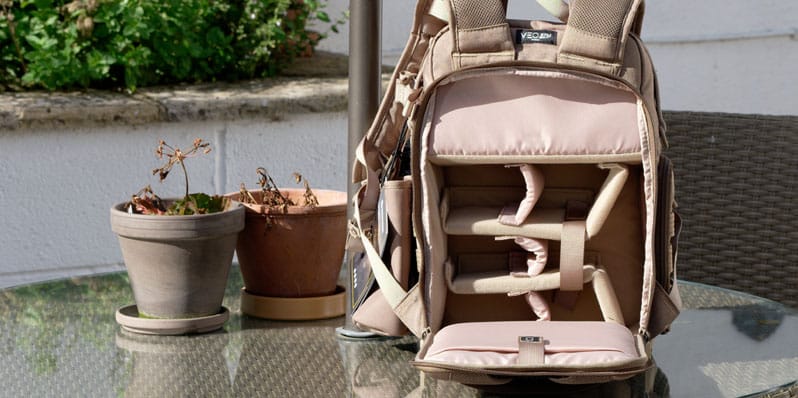 ​
Higher up on the top, access point in a front zippered compartment that had the detachable rain cover in there. Again, another potentially easy to get to pocket for thieves, but perfectly fine for something like a rain cover. The rain cover (included with bag) looks like typical Vanguard - functional and detachable. I'm quite on the fence in regard to rain covers not permanently attached to the bag. On one hand you can dry the cover without having to drop the whole bag in the airing cupboard (or similar), but on the other hand, an attached cover cannot be lost!!
There is a small-zippered compartment on the RHS of the bag, but once the water bottle holder was attached, the compartment wasn't that easy to get to. It's not very deep either, but will happily hold a lens pen or cloth.
​
On the other side of the bag is the side access door. An absolute must-have in my book, despite others saying it's easy access for thieves to relieve you of your camera. The size of the door is generous, with an APSC or full frame mirrorless easily going in or out. The access door itself also has Molle webbing if you wanted to attach something to it. Flexibility is the name of the game here.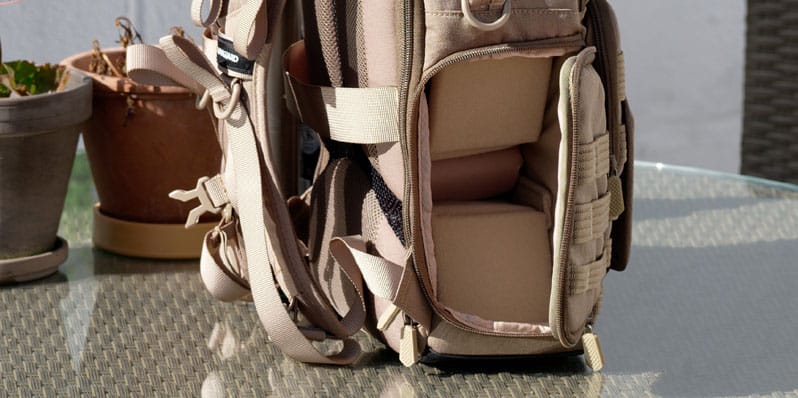 ​
In terms of what size camera would it take, probably most of them. I didn't test it with a large DSLR (I don't have one!), but ASPC or full frame mirrorless camera is no problem. Out of the box, it won't take a 70-200, but APSC Fuji with a 70-300 lens was no issue. I suspect that Vanguard had APSC in mind when they designed this bag. The Camera compartment will also happily accept my Full frame with standard zoom lens, albeit with the lens hood removed. It would be cruel to point out that unless you do some serious re-adjusting in the camera compartment, you will have to remove the lens hood from larger lenses. As previously mentioned, the 37M was probably intended for small mirrorless use, rather than the full frame bodies I would use this bag with.
​
My direct comparison to this bag was in fact another Vanguard - almost same sized Veo Select 37BRM. That bag has been my go to 'City walk around' bag for nearly 2 years. A bag big enough to take a full frame body with standard zoom attached and a spare lens (even 2). This size bag works for me as it holds the gear I want it to, but isn't too bulky to do that city walk around.
​
The tactical 37M is way better than the Select BRM. It is considerably more comfortable and has bigger (wider), more padded shoulder straps, lots of deep padding on the back of the bag and I can add things to it. With the Molle webbing, you can add lens pouches, gear pouches, whatever pouches. The list is almost endless, as the webbing seems to be an industry standard, with many companies making Camera dedicated attachments. Once you tap into the wider Molle world, you end up with a camera carrying system rather than just a camera bag.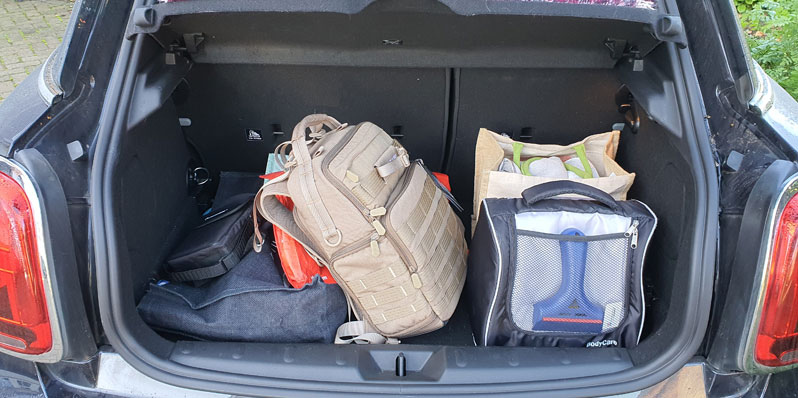 ​
I think this bag is quite possibly now, my go-to camera bag. It has the comfort that my old Vanguard Select doesn't quite have (I spent a couple of hours walking around a lake with it), a larger sized side access panel and the total flexibility that comes with Molle webbing. One thing that I didn't find on this bag was the little zippered 'security' compartment on the back for stashing phone or wallet. When wearing the bag, it's hard for whatever is in that compartment to be stolen. Quite a few Vanguard Camera Bags have this feature, but was sadly not to be found on the T37M. At roughly £100, even without the security pocket, the T37M range is probably as close to perfect as any camera bag will get. It's also possibly unique, as I don't believe anyone else makes a bag of this type, in that size and certainly not at the same price point.

Review by Justin L