Is the Celestron Landscout 10-30 x 50 the best cheap spotting scope
1 October 2018 | Admin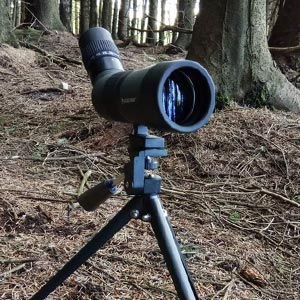 Leaning towards the cheaper end of the spotting scope market is the Landscout 10-30 x 50, a small offering by optics company Celestron.
Spotting scopes have two major uses: spotting animals and for checking targets in firing ranges. Is this compact spotting scope powerful enough to do either?
Spotting Scope
The scope is ready to use out of the box and it looks and feels great. The simple rubber casing gives it an elegant look, whilst also leaving it smooth to the touch. Rubber covers the focus wheels too, they're moulded especially for good grip. Angled scopes – like the Landscout 50 - are very versatile, it's good for bird watching and some casual astronomy, and I find I don't tire as easily compared to a straight scope. Watching any kind of bird's flight becomes difficult however, if you're inexperienced and looking to use the scope for fast moving targets. In this case a straight scope would be better suited. The scope comes with a free tripod – it's decent for lying prone or sitting at a table, but it would need to be swapped out if needed to be used stood up. Attaching the scope to the tripod is simple, it just screws on. Once set up, the tripod offers full 360-degree rotation and you can increase the resistance of movement by twisting the positioning handle. Unfortunately, the spotting scope doesn't have variable eye relief, but the stock padded eye-cup is satisfactory; using the scope with glasses isn't a problem.
Image Quality
Using the scope, you get a range of magnification strength. It works like the zoom of a camera lens, you twist the variable magnification wheel to blow up the image anywhere between 10 to 30 times the size of the original. This works well in practice when watching animals – searching the surroundings, then going for a close-up once you've spotted something. Celestron have packed in a 50mm objective lens into this compact scope, so it can gather in a lot of light. The prisms within the scope are made of a cheaper BK7 glass, but it doesn't take anything away from the experience as it has fully coated optics, so the images are still bright and clear.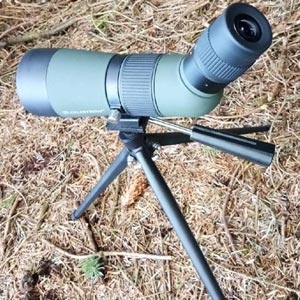 Build Quality
Though small, the scope has a decent weight to it. There's no rattling, all the moving parts have been made and assembled with precision.
Thanks to its rubber coating, the spotting scope can boast being fog-proof and water resistant, though it's not quite waterproof – heavy downpour could put the scope at risk. Any defects in the scope are covered with Celestron's 'Limited Lifetime Warranty', so most faults in workmanship are covered for a number of years.
Verdict
Celestron have built a powerful spotting scope for its size, which boasts a great variable zoom feature, tripod and case. In practice, the scope is ideal for beginner animal enthusiasts, however the scope may be found lacking if pushed to a great distance on a firing range.