How long does the battery charge in a Celestron PowerTank Lithium PRO last
13 August 2021 | Admin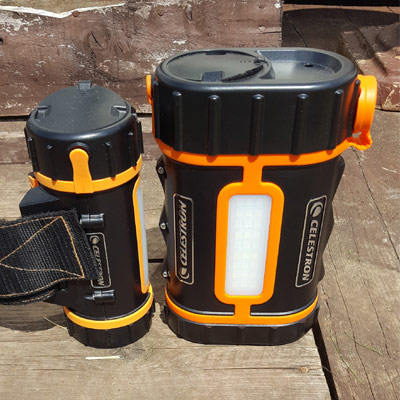 I am not a professional, I am an amateur astronomer, so this is a real world account of the Celestron PowerTank Lithium PRO (18768-CGL), this is my second, I started with its little brother, but I needed a longer lasting telescope power pack due to me doing solar day time and astronomy at night at a dark site where I can't charge anything as there is no mains supply, it is twice the size of its little brother, but it's still a lot lighter than a lead acid battery and will out-power it. It's a major upgrade on its little brother (Celestron PowerTank Lithium) as it has 2 USB's and a 1x 2.5 mm centre live plug for your telescope, so it's the same plug for the Celestron and Skywatcher mounts and a cigarette plug socket which can all be used at the same time, it's little brother you can only use one socket at a time.

As you can see from the pictures it's size it's not tiny, but it's not massive, this power pack will give you 12 volts all the way till it's dead most power packs give you 12 volts to start off but soon drop to 11 volts which in turn starts to make the mount miss targets and not track well, so it's important to have a good 12 volts and up to 5amps my HEQ5 pro slews at 2 amps and tracks at 0.9 of an amp, so I do get a good 17 hours of power and with it little brother that another 10 hours more than enough for a weekend.
The power level is 4 red lights, so you can see what is going on, on its little brother you have to turn it off to see battery level but not with this lithium pro. The instructions say the light flash in sequence they do on its little brother but not on the lithium pro press The battery button once to see power level when once press again, and it now powered up battery lights on USB lights on, press and hold the button, and it will turn it off.
The pros & cons.

Pros;
- A good 12 volts till the end
- Lighter than a lead acid battery
- Will out-power a lead acid battery over a long time
- Built in red or white light with different brightness levels
- Power level indicator lights
- Built to take a damp night, nothing worse than trying to keep a power pack dry
- Will run the mount and dew shields etc
- If you run it flat it can be left for 6 months and will recharge not like the power tank if you run that flat it's a bin job
10 year life, I hate to think how many lead acid batteries you would need in 10 years
Cons;
- Well the only one I came across is the rubber pins on the rubber lid snap off the lid will still work to keep damp out just don't lose it, I knew this when I got them, but the pros out weighs this tiny fault so would buy another one if ever I needed one.
So to sum up if you need power for your telescope this is a must-have item it can be used for more than astronomy, fishing at night, camping, run a cool box.
Review by Neil H