How Do I Format A Memory Card?
1 February 2016 | Admin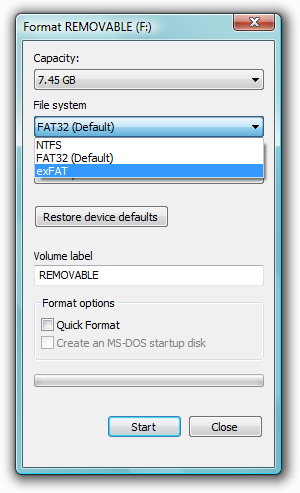 You may question why you even need to format a memory card. As many people use DVDs today over the old floppy disc format, you may miss the whole point of why formatting any disc is important. Your memory card is filled with lines of empty directories all piled on top of each other.
Over time these lines become fragmented and it is impossible for your camera or camcorder to write files to certain sections. When a piece of equipment is used regularly with the same card, these error lines and the fragmentation becomes more wide spread leaving whole swathes of the card unusable but not forever!
Formatting A Memory Card As Opposed To Simply Deleting Files
When you format a memory card you are literally emptying it of all its contents, both video and photos will be completely erased so be sure to copy them to a computer and back up all your data. You can return the data to the card after it is formatted. Also note that any protected files will remain, if this option is selected be confident that has been changed and the file copied successfully.
Once you have backed up all your photos and videos you can then proceed with formatting the memory card. There are two ways this can be achieved, via the camera or camcorder itself or by utilising a computer with memory card slot or using a universal USB attachment - these are cheap and widely available. You may require a SDXC driver for a SDXC memory card.
If you're thinking, why not just erase photos instead of going through the longer process of memory card formatting. This method only achieves an empty memory card, it will not reaffirm and restructure the directories that all of a card can be written to with no gaps. Gaps leads to errors in files being saved, becoming irretrievable and the card malfunctioning which is the last thing we want to happen.
Professionals recommend that you format a memory card at least two times a year, however power users may wish to up that rate and do so several times a year. Remembering to always save the data beforehand. You can format a memory card in a camera or camcorder or in a computer.

How Do I Format A Memory Card On A Computer?
Formatting via your equipment is usually standard and accessed through the playback mode. Follow instructions in your manual to ensure it is completed properly. Even though reputable manufacturers such as Sandisk state their wares are pre-formatted, most suggest you format any new card so that it is adapted to your individual equipment.
To format a memory card via your mac or personal computer, we suggest you download the software from the SD association. The SD Formatter 4.0 download will assist with formatting SD, SDHC and SDXC memory cards. When formatting on a computer, triple check your are doing so on the correct external device. Data cannot be retrieved after.
You should format a memory card in the event you find the saving is sluggish - more noticeable when using fast action shooting, or when errors become the norm. Formatting safe guards the integrity of your card's filing system and reduces errors and loss of data over time.