Celestron Starsense AutoAlign Review - automatic alignment for your telescope
2 Comments
15 December 2022 |
Admin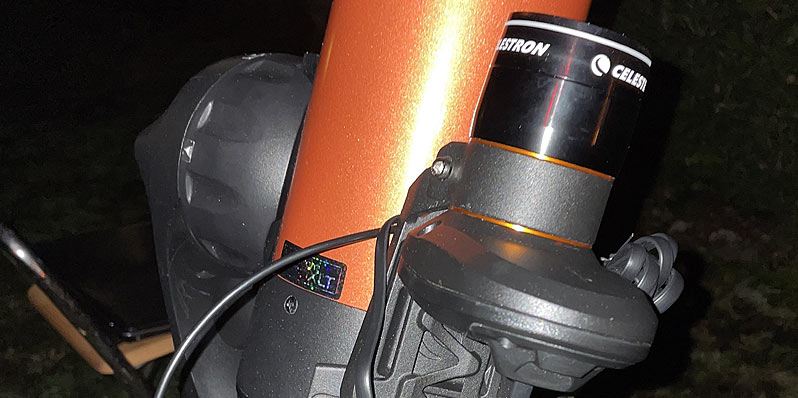 Celestron StarSense AutoAlign- Is this a must or not?
For me, it is a must and the best piece of equipment I have invested in for my astronomy hobby. I would class myself as an advanced beginner who still has a lot to learn. Some 20 years ago my interest in astronomy drifted mainly because of the difficulty in my finding objects. During the Covid pandemic, I renewed my interest and I bought the computerised Celestron Nextstar 4SE.

However, I was still having problems finding things in the sky, as to set it up properly you needed to do a three-star alignment. With this, the weather and me, it was proving difficult setting up. I then discovered the Celestron StarSense AutoAlign. A Celestron accessory gadget that would help find what I wanted with the minimum set up (Enables automatic alignment of your Celestron computerised telescope), it was a dream come true. Sadly, everyone was out of stock. I eventually left my details on PicStop.co.uk to advise when it was back in stock. To my delight, a few months ago I got an email from them saying it was in stock. I ordered, and it was despatched and delivered at the price at which it was originally advertised. Excellent service from PicStop.
​It is easy to fit to your telescope, but do check, as it does not fit all telescopes. Once fitted, you need to do a once only alignment to your telescope. Sky prevailing, this is pretty straightforward either by the handset or the Celestron app via Skyportal.
How does it work? Well in simple terms it is a camera that does not show you a picture but retains the picture in its 'brain' from which it is able to work out where things are in the sky. When you first switch your computer on, it will go off and do an alignment. (this takes a maximum of 5 minutes). Once alignment is complete on your first use, you will now need to align it to your telescope. This means picking a star you can see and name (use the app if, like me, you are not that good at knowing what is what). You then press the relevant buttons on the handheld, or in the app, to tell it to find your star. It will go off and end up pointing in the direction of your star. You may be lucky that it is visible in the viewfinder, but it probably will not. You then follow the process to calibrate it with your telescope. (NB if you use the handheld, you cannot change over to the app and vice versa in set up). The calibration is skewing your telescope to the star so, it appears in your viewfinder as near to the centre as you can. (this is a coarse alignment). You then change lenses to a higher magnification and do a fine alignment to get it in the centre. You then press the appropriate buttons and off it goes, and it will align with the star. You then send it off to do another general alignment so, it can link it all to your telescope. That's it and as long as you use the same telescope you do not have to do another calibration. You simply switch on, remembering to take off the lens cap. (well that's obvious, you might say but, it is so easy just to forget and wonder why the alignment failed because of the lack of stars). The telescope will then do an alignment on its own, and on completion it tells you it is ready.
Celestron have a very simple video in relation to the initial set up and also two other videos on YouTube relating to setting up with the handheld or the app. Studying these before you start is highly recommended as it just provides you with the overall picture and I certainly found it made things even simpler. The links are as follows:
How to Set Up StarSense AutoAlign - Click Here
Celestron StarSense: Set-Up, Alignment, & Calibration with SkyPortal - Click Here
Many other useful ones as well.
​
As I say, I have unfortunately only had limited use of it so far, but I tell you I was very excited when I finally achieved the telescope set up bit and then asked it to find Jupiter. Press the button and hey presto off it goes and when it stopped there Jupiter was almost bang in the centre of my viewfinder. I then sent it off to Mars, and again it was there before my very eyes. I then went brave and sent it to Capella, and again it found it. It is so impressive and mind-boggling as to how it does it all with such accuracy. It saves time and frustration, and I am sure as the nights allow it will delight me even more.
If you can, try to do the set-up when the moon is not shining so bright, and you position your telescope to allow for minimum disruption to field of site from ground objects. I set up in my rear garden which faces more or less due West and also because of properties and trees my horizon is higher than true. When I visit my family in Bristol, their property faces east, which proved a lot better for me. But despite the third-party interferences of property, trees, hills and of course city light pollution, the Celestron StarSense Auto Align still worked. I have tried to align on a couple of occasions with intermittent clouds and as you would expect this can prevent it acquiring enough stars to be able to function effectively. It will tell you though if this is the case. What I found amazing when I first used it was on it first sweep it had found over 100 stars, then another 100 and so on, initially I could barely count 10.
Yes, this is relatively expensive, but if, like me, you have difficulty finding things then it will transform your experience and be seen as a very worthy investment. Obviously for many it may be unnecessary as they have the ability and skills to find things without issue. If the Celestron StarSense AutoAlign is compatible with your computer, then it is certainly worthy of very serious consideration. PicStop are very helpful and so are the YouTube videos. I am sure they will help in your decision-making.
Some basic rules:
A Ensure computer level
B Remove lens cap off the Celestron StarSense AutoAlign
C Once alignment process starts, do not move or knock your tripod
D Remember on first use you will need to calibrate to your telescope
E Try to do D when plenty of Sky activity and the moon is dim or absent
F If you have cables dangling from your telescope make sure that they do not hinder the skewing process of alignment as the telescope will go back and forwards and up and down as it thinks necessary.
G If you only have one accessory port (like on my 4SE) and you are using it like me with say the sky portal then you will need a splitter.
As I conclude my personal review of this wonderful piece of equipment, I have just come in from a session in my garden, unfortunately it took me three attempts to align properly this time. Why because I failed to observe tips C and F above. However, when I left it to just do what it does, the results were amazing and resulted in my best night yet. I set up my calibration on Aldebaran and when it said ready after doing what it does, I sent to: Jupiter, Mars, Aldebaran and back to Jupiter, back to Mars then Capella and all appeared in the viewfinder. So impressive. I also sent to Rigel by mistake, but it knew and told me out of skewing range.
For me, it is a must as I just want to enjoy the experience of finding whatever I can and if possible, photographing it. At 76 yrs I don't think I want to try to remember what is what and where. Although I am improving in that area with the help of the Celestron StarSense AutoAlign and APP.
​Enjoy your nights with the celestial world.