Celestron PowerTank Lithium Pro 18768 Review
13 May 2020 | Admin
Powering a telescope using a suitable battery source rather than mains power has the advantage that the telescope, without the restriction of a mains lead, becomes both portable and safer - due to the absence of at least one tripping hazard! Lead-acid batteries have the disadvantage of being excessively bulky and heavy and in my experience have a relatively short life.

Celestron's Lithium Powertanks have the advantage of being both smaller and lighter than their lead acid counterparts and are have an extended lifetime. They are therefore the supply of choice for telescopes both in the field and in the back yard!

The Lithium Pro and its smaller brother come equipped to be attached to the telescope tripod by means of a strong Velcro strap and buckle. It has to be said that this is not as easy to do as it sounds, at least in the case of the heavier Powertank Pro as, unless you have superhuman strength to really tighten the strap, it does tend to slide down the tripod leg! This, however is easily avoided, in my case, by attaching the strap above the tripod accessory tray preventing such slippage past the tray. (Image 1 shows the Powertank attached to a tripod leg and Image 2 a close-up view)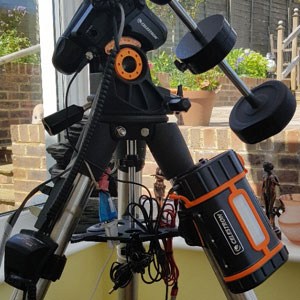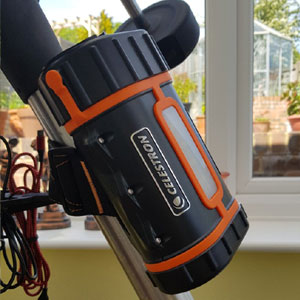 Having the battery high up on the tripod leg brings it inclose proximity to the power socket of the mount (in my case a Celestron AVX) and the short distance between the two make for a neater arrangement of cables and one less tripping hazard!

The Powertank is supplied with a charger (16 volts) which must never be connected directly to the mount input socket as the higher voltage would likely damage the mount electronics. The power tank to mount connection has at the input end a threaded connector which prevents the power lead bing accidentally pulled out of the mount. A good thing in my experience!

The Powertank also has two USB outlets and a 12V dc "car cigarette" outlet. The latter could possibly be used to simultaneously power a dew shield heater but the power consumption of the heater would have to be taken into account when estimating how long the Powertank would last before its charge ran out. 17 hours is quoted for a typical charge for a mount alone.

The two USB outlets (normal and fast charge) provide a charging source for devices like mobile phones or tablets. These Power outlets automatically shut off once the power flowing drops to a low level of 100mA for 1 hour. Whilst this prevents the Powertank draining, I would have preferred one of the two sockets to be without this limitation because, on one occasion when I wanted to power a small USB camera mount its power consumption was so low that, after an hour, the USB supply was turned off. Of course this can be got around by using the cigarette lighter connection with an adaptor which terminates in one or more USB sockets. These adaptors are cheap and readily available.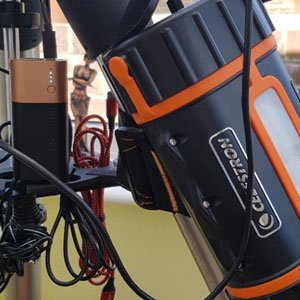 Image 3 shows the Powertank charging a smaller rechargeable power supply (for my aforementioned camera mount!)
A very useful feature of the Powertank is its ability to display either a bank of white or red LEDs both in two levels of brightness. The red while observing to promote night vision and the white while "clearing up."Controls and the USB sockets are located under a rubber flap at the top of the unit. Two buttons, one displaying the level of charge in the Powertank and turning on the power outlets, the other turning on the white or red LEDs as required. The sequence of pushes to achieve the above are detailed in the more than adequate manual.

In all, despite a couple of very minor shortcomings an excellent, well-made and robust device which I hope to be using for many years.

Review by Jim Beston May.