Can you trust a cheap camera bag to get the job done?
15 April 2016 | Admin
The Inov8 Apollo Backpack is a camera bag; it's cheap, it's seemingly basic, and it claims it's designed to fit any bridge or DSLR camera, but in a world of £200+ camera bags, can a cheaper alternative really do a good job of holding your precious gear?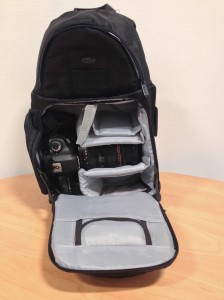 Well to make sure, I popped my trusty 5D MKiii inside and give it a run for its money. I wanted to see what was under the hood, and whether this little bag can deliver what it promised and more.
There's More To It Than Meets The Eye
I really like the sling pack design, it's got a sporty feel to it, and I can get into the pockets on either side without any hassle – I think there's a famous saying that goes "you should always have your camera on you and at-the-ready for that perfect photo opportunity."
Imagine the last time you saw a great photo opportunity and couldn't be bothered getting your camera out of the bag. Now imagine someone with a bag like this, quickly spinning it round and beating you to the shot. That's where this platform stands alone from the rest.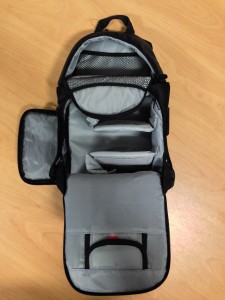 The bag would be great for taking along on hiking or climbing expeditions, although the closest I got to that was jogging up Selfridges' escalators. Having said that, everything remained intact and wasn't being thrown around in the bag. The Inov8 Apollo distributed the bulky weight on my back with the shoulder pad across my back; whilst the padded, non-slip material glued it to my shoulder when I was on the move. So if you're carrying a 12 pack of free-range eggs in there, there shouldn't be any mess at the end of the journey.
Beauty Is On The Inside
Getting to the camera is easier than I could imagine, especially when I was wearing it, it takes just seconds to reach into any pocket. The internal compartment can only be described as like being on the inside of a space suit, with rigid, padded dividers, protecting whatever is inside from the elements, and there's even a sneaky compartment above for a spare lens.
It's just big enough to fit all of your equipment in – including camera body, lens, and a flash unit. It's even got a specific area to stash your memory cards because, if you're like me, you know they're impossible to keep track of. In fact, I wouldn't be surprised if I kept finding new hidden pockets in this bag later down the line.
Protection From The Elements
The bag's not going to win any prizes for looks but the exterior is made up of polyester, which keeps it pretty damn durable and contributes to its rugged feel. There's even a dedicated, sizeable pocket at the rear, equipped with a waterproof zipper (perfect for those wet, rainy days) where you can easily fit a tablet in there, safe and snug as a bug in a rug.
If you live in the UK you'll know we definitely get the worst of the weather, so I was happy to find that there's a waterproof cover that extends over the length and breadth of the entire bag. This gave me another level of confidence when I was out and about, knowing there wasn't a drop of water sneaking into my body somewhere.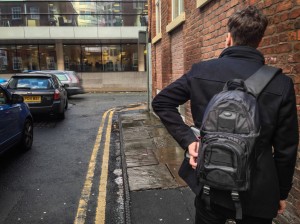 And even if your camera's not inside, it doubles as a fantastic little messenger bag - chuck the internal dividers out and you look the part. What's more, all of this for under twenty quid! So let's party like it's £19.99 and keep your camera safe, secure and sealed from the elements.
So, can this cheap camera bag live up to its expensive rivals? In a word, yes. It does the job. But if you need to carry more than two lenses, I'd recommend investing in something a little bigger. It may not be the prettiest bag, but it works, and it keeps your equipment protected.