Beware compatibility issues with USB flash memory and your Smart TV
5 Comments
1 June 2020 |
Admin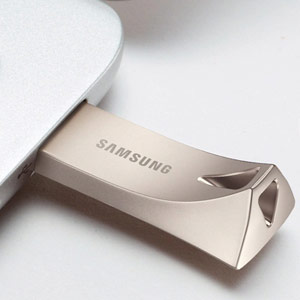 This new Bar Plus USB 3.1 Flash Drive 64GB from Samsung boasts a smooth aluminium body, fast transfer speeds, write speeds of up to 200Mbps & backwards compatibility with USB 3.0 & 2.0 devices however this is not the case!
I required a USB flash drive to transfer SATNAV files from my Win10 PC to my car. This is a procedure I carry out once a year so the plan was to utilise the flash drive with my Samsung smart TV timeshift feature in between because my aging SanDisk 32gb was beginning to degrade possibly due to repeated recording & deletion of TV programs.
The Samsung Bar Plus USB 3.1 Flash Drive 64GB worked perfectly in my 14 month old Win10 PC, alloying me to quickly upload the SATNAV files however once I introduced the flash drive to my 3 year old car it was not recognised? I then tried to use the Samsung flash drive in my Samsung smart TV and it wouldn't format? After fettling for sometime I managed to format the flash drive for use in my television however the television warned that the flash drive was only capable of write speeds of up to 2.21Mbps, a far cry from its advertised 200Mbps.
I've had to revert back to my trusty & much cheaper, plastic SanDisk flash drive to complete my desired tasks.
So to summarise, the Samsung flash drive functioned perfectly in my PC but because it can't be used for it's intended use I've consigned to my junk drawer in my kitchen.
Review by Kevin A