Back up your mobile with the SanDisk Ultra Dual USB Flash Drive
Sunday, 1 May 2016 | Admin
I think it was Ferris Bueller who once mused, "life moves pretty fast. If you don't stop and look around once in a while, you could miss it." What can I say, my life's been moving too fast even for me to keep track of all my data, never mind keeping track of my actual life.
And what do you know, the second week of February rolls by and the SanDisk Ultra Dual USB Flash Drive rolls into stores! It goes without saying, but as soon as I heard about its release, I was dying to get my hands on it and put it through its paces. So, here we go...
"It has a clean, black design…it feels sturdy in the hand, but it's tiny, it weighs nothing"
First impressions are the most lasting and the SanDisk Ultra is no different, as soon as I plied it out of the packaging I knew I was in for a treat. It has a clean, black design; you can tell it has a quality build when you hold it, it feels sturdy in the hand, but it's tiny, it weighs nothing, and would probably float in water (if it was airtight). And it's small enough to fit in your top pocket, making you feel like a spy who's quickly transferring important data – even if it is just a couple of spreadsheets at work.
"Lightning-fast speeds, and with a potential capacity of 64GB"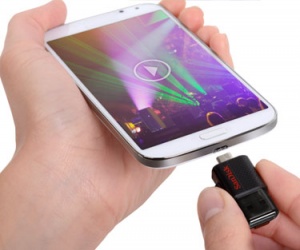 Historically, USB flash drives have never been associated with speed and performance; but that's no longer the case. The impressive specifications of this USB drive proudly boast its lightning-fast speeds, and with a potential capacity of 64GB, there's enough room to swing a cat in there!
What with me being a photography enthusiast (or 'obsessive', as my wife, friends and coworkers say), I was interested to see how well the Sandisk drive would perform when transferring high-res images to-and-fro. I'll just say this, I plugged the drive into my PC, copied a folder of 25 high-res images onto it, nipped into the kitchen to put the kettle on, and when I returned, it had completed the entire transfer faster than I could say 'Ultra Grade Flash Storage'.
The drive is complimented with a free 'Manager Zone' app, available on the Google Play store, which syncs with the USB drive and offers you all you need, and more. The app simplifies the content transfer and management, providing security that's fitted with an automated backup/restore feature - which means you can protect your backed-up files, which protect your back up files, which back up your files. Confused? Don't be. Just sit back, safe in the knowledge there's no possible way you're going to lose any content. But just to be certain, here it is again - this product will back up your phone.
"No disruptions, just smooth HD video playback"
Are you a commuter? I take the train to work every day, and there always seems to be a lack of signal on my phone – especially when I'm trying to catch up with BBC iPlayer. I put the Sandisk USB to the test. Seeing as everyone and their dog had been recommending Sherlock, I went ahead and copied the entire season 1 onto the USB and plugged-in-and-played the entire journey. No disruptions, just smooth HD video playback. I was the envy of the entire train.
And in our increasingly mobile world, you always seem to need access to your data at any moment, on any device – whether it's at work, down the pub, on holiday or even on the loo. To some extent, cloud-based storage attempted to solve this problem; but as you know, coverage isn't always 100%, and download speeds can be agonizingly slow at times. But you don't want to chew through your contract's data usage and have a nasty surprise in your next phone bill. Cue the SanDisk Ultra Dual USB Flash Drive – which brings the convenience of a regular USB drive to smartphones and tablets.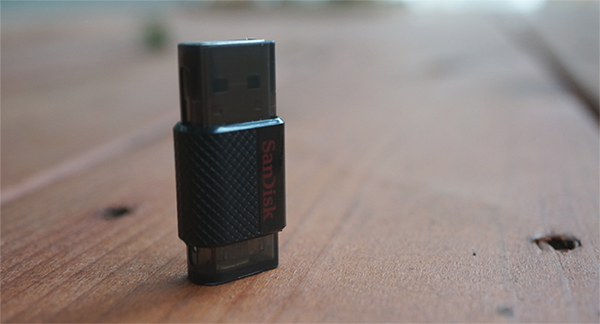 It isn't simply storage for your desktop, it's storage for your life – across all mediums, and it's the simplest way to transfer data to them. It's as if it was designed specifically for the needs of memory-deprived smartphone and tablet users, which, to be honest, is exactly what I am.
Kent Perry, director of USB product marketing at Sandisk, probably said it best. "Like flossing our teeth or balancing our checkbooks, when it comes to backing up our digital files, even though people know they should do it, they simply don't – and that behavior is putting many consumers' precious digital content at serious risk."
What Sandisk are doing is delivering simple backup to protect the most valuable digital content of the average Joe (that's me and you!). But what I want to know is, why on earth hasn't this been invented earlier!?