Are USB memory sticks now too small?
Monday, 30 July 2018 | Admin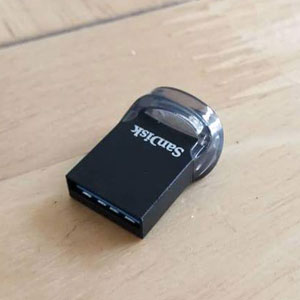 Over the years, our technology has been shrinking; our laptops have been shedding weight and our phones having been trimming fat. USB memory sticks have also done their share of cutting down, but have SanDisk cut down too far?
SanDisk's current Ultra Fit line of memory sticks are truly miniscule - the size of a fingernail - but how does it fare in day-to-day use? I'll take a look at the SanDisk Ultra Fit USB 3.1 Flash Drive.
Memory Stick Design
In my hands, it felt like a LEGO brick; high quality material and well moulded. It also reminded me of how many LEGO pieces I'd lost to the vacuum cleaner, this would be an expensive LEGO brick to lose.

That being said, I only get worried about losing the memory stick when it's loose from my laptop. The memory stick is incredibly unobtrusive, it's low profile enough for me to forget about it. It's not flush with the side of the laptop but it's close enough.
I can see why SanDisk haven't made it completely flush. If it were flush, I'd be worried that it'd get stuck in my laptop. There's just about enough room on the end for me to pull it out, any smaller and I wouldn't be able to get any purchase on it.
Because of the size, there's not much to comment about the device's looks. It's small, it's black and it has a loop for a wrist strap. It's effective.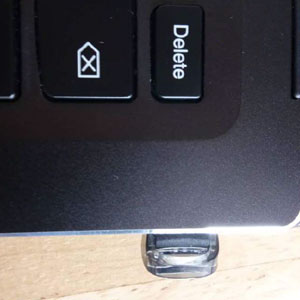 Storage Space and Transfer Speeds
The SanDisk Ultra Fit Flash Drive is USB 3.1 compatible with data transfer speeds of up to 160 MB/s. This isn't on par with the fastest memory sticks that hit 480 MB/s but it's certainly no slouch. I don't think the size has had too much of an impact on the speed, SanDisk seem to reserve the top speeds for their pricier Extreme range.
It blows me away to think that this memory stick can hold up to 256 GB of data. I can't figure out where they'd be able to fit one gigabyte in the device, let alone 256 of them.
The SanDisk Ultra Fit doesn't really offer anything else in the way of functionality. The memory stick comes bundled with 'Secure Access' software and nothing other than that. It does what it says on the tin.



Verdict
Could a memory stick get any smaller? Yes, of course. There's plenty of nanometres to shave off. Probably wouldn't make much of a difference though.
The SanDisk Ultra Fit packs a punch despite the obvious challenges of manufacturing with its size; it isn't comprised by its size in any way. Some corners may have been cut in its body but not in its performance.