An OTG USB drive to save data from your phone
Friday, 9 March 2018 | Admin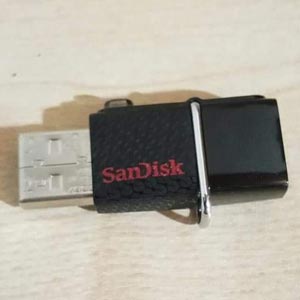 An OTG USB drive to save data from your phone - A Review
Up until recently, Android phone software hasn't been able to host USB drives, as well as other computer peripherals e.g. mouse and keyboard. Google generated the solution with "On The Go" software, simply known as OTG. OTG-enabled Android devices have been granted compatibility with OTG-enabled peripherals. SanDisk have entered the OTG ring with their SanDisk Ultra Dual USB Drive 3.0, I'll be taking a look at their 16GB offering.
DESIGN
I think this may be the most compact thing I've ever seen. I doubt NASA would be able to better it. The shell is close to the size of sherbet lemon, the encased connectors span the entire length of the shell when hidden inside. From what I can see, the only room for the physical memory must be in the space around the MicroUSB; a tight fit. The sliding rail clicks into place when either of the connectors are extended, it's quite solid although it doesn't click when both are hidden; it didn't feel right but wasn't too much of a hassle. The face of the casing has a nice hexagonal print and glossy black finish. The device would have been much more of a looker if it didn't have the ugly chrome loop running down the middle of the device. To be honest, the ugly chrome loop does have its use, it's quite beneficial to hook a strap onto the device. It's much easier to find or hold onto that way.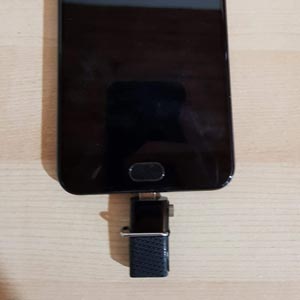 PERFORMANCE
For computer, it has USB 3.0 – claimed to transfer data at 130MB/s. Don't worry if you only have a USB 2.0 on your laptop or desktop, it's backwards compatible and will run on the Windows OS from Vista onwards, as well as Mac OS X from Snow Leopard onwards. To connect to your phone, the USB drive uses a microUSB connector, the most common type of data port used in android smartphones. From experimentation, I've found that this connection will deliver around 100MB/s. Not bad at all. The 'Dual USB Drive' comes in 5 different sizes of flash memory, doubling from 16GB to a mighty 256GB. This USB flash drive can also come in white, so it'll match all those white Samsung Galaxys out there.
CONCLUSION
I can see that these are the perfect travel companions; light, compact and ideal for those moments when getting your laptop out to free up space just isn't an option. Or perhaps for the person that wants to make their work-life more phone-centric, no faffing around with email attachments when passing files to colleagues. Overall, this type of flash drive is far from novelty or niche, making your phone even more convenient and it can be as cheap as chips if you choose your model right.