Can SanDisk's Extreme SSD be as portable as a USB flash drive?
Monday, 2 July 2018 | Admin
Can SanDisk's Extreme SSD be as portable as a USB flash drive?

With their 'Extreme Portable' line of solid-state drives (SSD), SanDisk are looking to impress photographers, travellers with a compact yet fast device, but how does it compare to the portability and performance of an everyday flash drive?
To find out, I'll be looking at the 250 GB version of SanDisk's Extreme Portable SSD.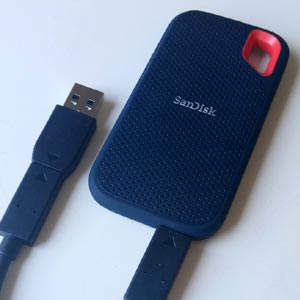 Design
Casing and Size
The device screams build quality. From the feel of it, once the nuclear winter comes around, the only things left on Earth will be this device and cockroaches.
Size-wise, it excels – it's very portable. To put it into perspective, the device could fit snugly into a credit card slot in my wallet, which is where I choose to keep it.
The device is small, but its size can't compete with the ever-shrinking memory stick. Though there's a loop for keychains and straps on the SSD, I find it a bit too bulky to put on my set of keys compared to a flash drive.

Claiming to be 'shock and vibration resistant', the SDD has been wrapped up in a rubber casing, flush with the device's front plastic face. The rubber feels so good to touch, I almost wish they'd covered it entirely in rubber, though the plastic is a reasonable substitute. Altogether, I wouldn't have any worries about dropping the SSD from shoulder height.
Waterproofing

I'm too scared to test this for myself, but SanDisk are touting the SSD's water resistance. The product has been assigned an IP55 rating, which can be translated to being 'protected from low pressure water jets from any direction'; very lucky for those of you that frequently encounter low pressure water jets. The SSD is also dust resistant.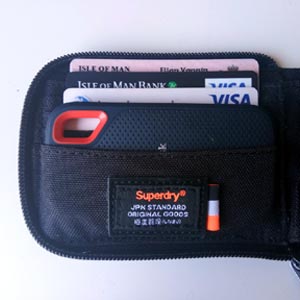 Performance
Software
With the SSD, SanDisk have included their own password-protected vault software, essentially acting as a file explorer for the device. This is a great feature for the security conscious, however the software treats passwords as a necessity, which can be a little tedious; you'll be logging in time and time again even if you're not bothered about keeping it secure.

Memory and Speed
In terms of read/write speeds, the SSD clocks in at 0.5 GB. This isn't extraordinary for an SSD but you can expect it to run around 2-3 times faster than your average memory stick.
Capacity-wise, flash drives can't compete with the Extreme Portable, as they range from a respectable 250 GB to an enormous 2 TB. The SSD also comes in 500 GB and 1 TB variants.


Verdict
The portable solid-state drive has a large mountain to climb if it wants to replace the USB flash drive as the go-to form of mobile storage, however, the current SSD technology does have something to offer – even if it hasn't been perfected.
SanDisk's offering is small enough to be considered genuinely portable. It's also tougher, quicker and can hold more data than the best part of all flash drives; it definitely deserves your attention.