Cyclists review of the SanDisk Clip Sport Plus Bluetooth MP3 player
Thursday, 7 January 2021 | Admin
I have been using an excellent Pure 2500 personal DAB radio during my bike rides for a couple of years. The shortcomings of not having an integrated MP3 player have been manifest and irritating for me as a cyclist who often pedals in countries where listening to radio stations is not ideal as a non-native speaker. As I was unable to find a sensibly priced DAB, MP3 integrated unit I opted to buy a SanDisk Clip Sport Plus principally for its size and weight, having read reviews of various alternatives online.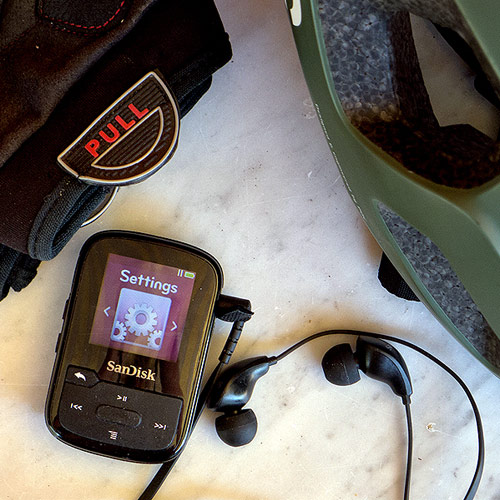 I have been using this SanDisk Clip Sport Plus 16GB MP3 player for about the last 3 months. The unit is indeed very compact and sits very securely in the small accessory pocket at the rear of my Rapha bib shorts, retained by the integrated spring clip which is easily accessible for one handed operation when necessary. The supplied in-ear headphones also act as an antenna for the FM radio. Whilst it functions reasonably well, reception can be markedly improved with an alternative headphone set - dependent on ones aspiration. Routing the headphone cable can be critical to a stable reception, as with any antenna. Sound quality is more than adequate for a sports related unit. Again, a substitute headset could improve this but I find the supplied ear buds perfectly good enough for my bike riding needs. I mostly ride with one ear "open" - right or left dependent on which country I find myself in with the "open" ear on the traffic side.

Controls are easy to use and the menu simple to navigate. The buttons are stable enough that they are not easily accidentally activated. The 5 channel equalizer, whilst useful, is a little limited in function but time pre-preparing sound files (in iTunes in my case) makes for a good enough, consistent delivery of music files for sports activity although my preferred usage is for podcasts and other spoken word items. Podcasts will continue where you left them if required which is a good feature.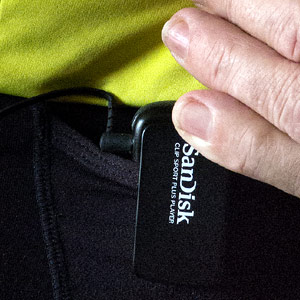 Hi-Fi it is not but then Hi-Fi is not what I require on a bike ride. All in all the sound quality is more than adequate and once the unit has been adjusted for volume in the Country setting (by law, the unit is pre-programmed to limit volume in certain areas but this is simply reset) there is plenty of delivered volume. Bluetooth was a bit sketchy in the first unit supplied but a swift replacement from PicStop proved to work flawlessly.

PicStop's website is easy to navigate and order through. Their price point is very competitive and delivery time was as advertised. Their after sales support was immediately accessible by telephone, knowledgeable in terms of the product and also excellent in supplying a replacement, quibble free.

I would recommend this SanDisk Clip Sport Plus MP3 player for its size, weight and overall function. For me, the only improvement I would find useful would be an integrated DAB radio function but for the price I find this an excellent buy.
Review By Colin T